Czech scientists have developed Kitl Eligin Organic, a powerful bio-ginger extract in capsules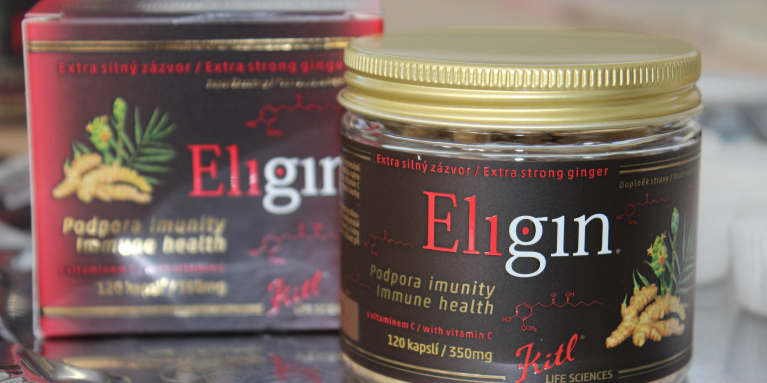 A concentrated form of high-quality organic ginger was launched under the name Kitl Eligin Organic. It was developed by a number of specialists led by its leading Czech immunologist prof.  MUDr. Jiřina Bartůňková, DrSc. Eligin Organic is manufactured by company Kitl from a high-quality ginger, which contains extremely high levels of active ingredients. Especially for them, people use ginger, for example, for immune disorders.
At the birth of Eligin was prof. MUDr. Jiřina Bartůňková, DrSc., Head of the Department of Immunology, 2nd Faculty of Medicine, Charles University. Ginger, which has been used in traditional eastern medicine for thousands of years for its versatile healing effects, has long been focused on. "It is easy to recommend eating ginger fresh or drinking ginger tea, but the quality of ginger sold varies vastly," the doctor says. "We wanted a product that we're going to control, so we can guarantee its content," she explains.
Ginger active ingredients
The ginger charm lies mainly in the two active ingredients: 6-gingerol and 6-shogaol. But not every rhizome contains the same. Differences tend to be abysmal. "The composition of plant material varies depending on the geographical origin of the raw material and the annual harvest time," explains prof. Ing. Jan Tříska, CSc. from the Global Change Research Institute of the Academy of Sciences of the Czech Republic, who participated in the development of Kitl Eligin Organic. Together with my colleague RNDr. Naděžda Vrchotová, CSc. conducted a number of analysis of ginger rhizomes from Asia and Africa. "Thanks to this knowledge, we have been able to recommend a good and reliable source for raw materials," says the professor. The ginger from which Eligin is made comes from Indonesia and is a product of organic farming.
How to get the best out of the root
However, the high content of active ingredients in the rhizome is not enough in itself. Ginger should be adjusted appropriately. Maximal amount of 6-gingerol as well as 6-shogaol was achieved in Eligin thanks to a specific manufacturing process.
"And because ginger alone contains only trace amounts of vitamin C, we've added a defined amount of this vitamin to the final product, which potentiates the effects of ginger," adds Bartůňková. And more, addition of vitamin C makes it possible to increase the content of 6-shogaol.
Wide application of ginger
The extraordinary potency of the active ingredients contained in Kitl Eligin Organic finds application in many areas. "Ginger has proven itself for digestive problems, has an antioxidant effect and helps support the immune system," says Professor Bartůňková. Ginger does not diminish attention to driving like other means. An overview of the effects of ginger is given below.
"The advantage of ginger is that it belongs to a category of substances recognized by drug agencies such as Generally Recognized As Safe (GRAS), it is because there were no toxic effects found. Thus, in addition to individual intolerance, Eligin does not have a contraindication, "adds the immunologist. However, she points out that Eligin is registered as a food supplement and therefore has not been subject to clinical trials.
Ginger powder in Eligin is coated with a special enteric capsule. As a result, it dissolves in the intestine after drinking. Therefore, its burning effect in the esophagus or stomach can be avoided. Who, on the other hand, likes a burning taste, can empty the contents of the capsule and use the extract alone. Kitl Eligin Organic can be used by adults and children from 6 years of age.
Effects of ginger on human health
Ginger has described a considerable amount of effects on the health of organisms. The published reports show that the substances contained in ginger and the extracts prepared from it:
positively affect digestion processes

alleviate dyspeptic problems

may have a beneficial effect on stomach problems

have immunostimulatory effects

stimulate heart activity and circulation

help to maintain blood fat and sugar levels

have a strong antioxidant effect

it has beneficial effects on the digestive system during travel
There is no published evidence that ginger is a food allergen.
The interest of scientists is turning back from synthetic substances to plants. Their effects are often greater. Natural products play an important role in medicine. So far, up to 80% of the world's population uses plants as primary care medicines. And often their effect is higher than with synthetic products.
"Plants are very complex mixtures containing hundreds of different components. In many, the therapeutic effect is determined by the interaction of the individual components. Isolated synthetic products may lose efficacy, or may act at high relatively toxic doses, while the combination of lower, non-toxic doses is more effective. That is why we are now turning back to whole plants and various processing procedures are being investigated, in which the complexity of all active substances in the optimal composition is preserved," explains Ing. Milan Houška, CSc., from the Food Research Institute Prague, at his project Ginger and its Health Effects, on which he worked with Professor Bartůňková.
However, it should be noted that there are few clinical studies conducted according to the principles of good clinical practice that would confirm these generally declared ginger effects. One of the reasons why these studies are not, is the fact that conducting GCP studies, is so costly that no prospective manufacturer pays to do similar studies.
Kitl Eligin Organic is registered as a food supplement. No clinical studies have been conducted with it.